Aero Shake is a very interesting feature It was first introduced in Windows 7. When you are working with many applications in your computer and you need to focus on a particular application window, then instead of minimizing all other windows one by one just click on your desired window's title bar and keep on dragging it back and forth for a while. Other windows will be minimized.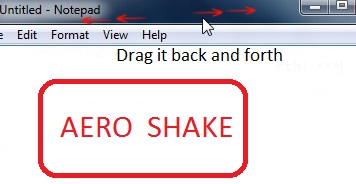 It is not only a very good feature but also a good time pass. But you may like to disable this feature to improve the performance of your system. This article will help you to disable or re-enable Aero Shake in your Windows 7.
You can perform this job by manually editing the registry. But it is very boring job. Some new users also may find that process bit tricky. So I have created two registry (.reg) files for you to minimize your efforts. These registry files will enable or disable Aero Shake in your Windows 7. Just double click on a .reg file and follow the on screen instructions (Always select YES or OK options) to add the values, which are within the .reg file to your registry. Thus you can enable or disable Aero Shake in Windows 7.
Here you can see how these two .reg files look in notepad.
Enable Aero Shake in Windows 7
Windows Registry Editor Version 5.00
; mywindowshub.com
; Enable Aero Shake
[HKEY_CURRENT_USER\Software\Policies\Microsoft\Windows\Explorer]
"NoWindowMinimizingShortcuts"=-
Disable Aero Shake in Windows 7
Windows Registry Editor Version 5.00
; mywindowshub.com
; Disable Aero Shake
[HKEY_CURRENT_USER\Software\Policies\Microsoft\Windows\Explorer]
"NoWindowMinimizingShortcuts"=dword:00000001
Here you can also download .reg files.

Download .reg Files