Combining and organizing photos, editing them to give a new form is what Diptic is all about. The Peak System product, Diptic, is specially crafted to make beautiful collages by combining beautiful moments and personalizing them in your own way, juxtaposing contrasting images and finally share it by email, Facebook, Instagram, PicsArt, Whatsapp or other Social Networking sites.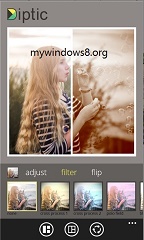 Total 139 layouts are there and you can select anyone of them, and start personalizing by rotating images, flipping, filter images, adjust brightness, hue and saturation. Some more exciting features are there which includes inserting border, text, cliparts and plenty of such fun features. Diptic is updated from time to time and the new version adds integration with Instagram, i.e. edit photos and share it directly via Instagram.
Diptic have been long in use by Android and iOS users and now, Diptic is ready to be with the Windows phone 8 users also. For the Windows version, integration with Instagram is not yet facilitated. Three export sizes are available 1632×1632, 2448×2448, 3264×3264. Diptic is a paid App cost $0.99 and has a size of 2MB that saves lot of space unlike many other applications. Since, it has just released its Windows version, still now all Windows phone 8 are not compatible and some system requirements are there like video and still capture, data services, HD720P (720×1280), WVGA (480×800), WXGA (768×1280). The app is available in the Windows Store. If it's not available to you then it means, your Windows Phone 8 is not compatible to use Diptic.