Dell makes sophisticated Windows laptops and it's not a new thing to inform people. But now Dell is setting its footstep in making flagship Windows tablets like Surface series of tablets. Some critics have even said that the tablets manufactured by Dell can be called as clones of Surface tablets. Let's dive deep into the reason why it's a clone of Surface tablets?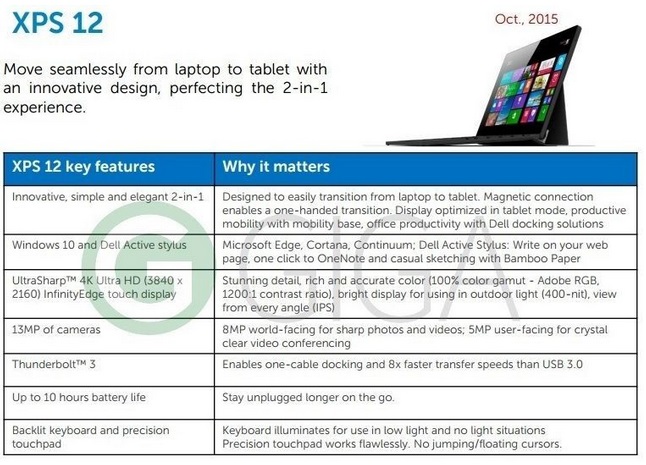 Recently some leaked images have been revealed which shows a new Dell Windows tablet with the name XPS 12. The Dell XPS 12 is actually tablet which is coupled to a standalone keyboard with the aid of a magnetically latch. This look gives a feel of the Microsoft Surface tablets. The keyboard featured is illuminated with backlight and a well equipped touchpad.
The specifications as given on the screenshot shows :
A 4K UHD (3840 x 2160) resolution
InfinityEdge design
10-hour battery life,
An 8-megapixel on the rear and a 5-megapixel selfie camera
The device will run Windows 10 OS.
Other specs show a Thunderbolt 3 port.
The specifications, however, shows that the device is far more superior than the current line up of Surface tablets. As far as the credibility of the device is concerned, it can be said only when the device finally roles out. The leaked image indicates of an October launch of Dell XPS 12