Windows operating system enables you to install more than 1 operating system on your PC. When you install two or more operating systems, the Boot options appear at Startup, so that users can choose which operating system they want to load. The operating system options are known as boot loader entries. So, if you want to remove a boot loader entry from appearing in the Boot options at startup, you can delete the boot loader entry quite easily. You can accomplish it by running some simple cmdlets in Command Prompt, or by tweaking some settings in System configuration.
In this article, I shall show you how to delete boot loader entry from Boot Options menu at startup in Windows 10.
Steps To Delete Boot Loader Entry on Boot Options Menu in System Configuration
1. Press Win+R to launch the Run command box. Type msconfig and hit Enter to open the System configuration.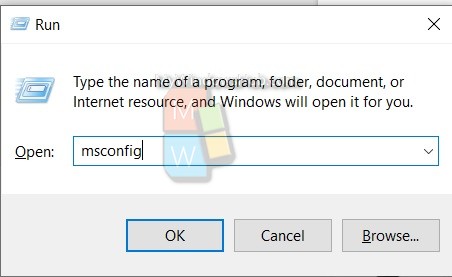 2. Next, go to the Boot tab. Under the boot tab, there is list of boot loader entries. Here, I have only Windows 10 installed and no other operating system is installed. So the boot option is showing only Windows 10, and the Delete option is disabled (greyed out) If you have multiple OS, then to delete a boot loader entry, select the boot loader entry and click Delete.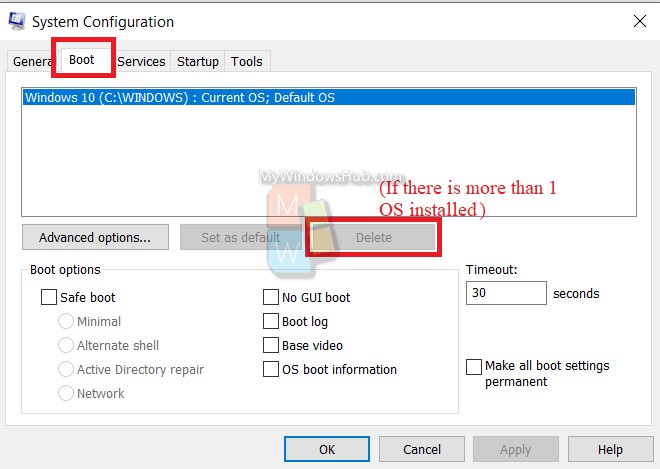 3. Click Apply and then OK.
You can also delete boot loader entry using Command Prompt but the process is a bit tricky. You have to note the identifier number of the boot loader entry. If you make any mistake while copying it, you may land up in trouble. So, for this moment, I am sharing only the system configuration method.