Microsoft has revealed an interesting statistics about Cortana. Cortana is the voice enabled personal digital assistant that was first introduced with Windows Phone 8.1. Cortana has several amazing abilites which include both utility features and fun features. Cortana can tell you jokes and short stories. It can also sing a song. This entertainment features of Cortana served as a great boost to make it stand apart from Siri and Google Now.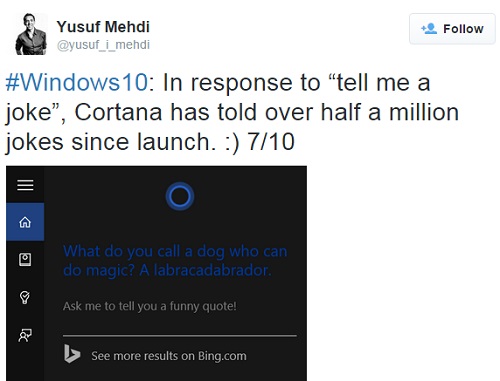 Microsoft revealed that Cortana has told a huge number of jokes already within 16 months of its inception which amounts to as much as half a million. This number when calculated equated to more than 30,000 jokes monthly and about 1000 jokes daily. This is simply amazing that a digital assistant which is a robot has succeeded in entertaining its users in such a large scale.
Cortana is a highly personalized digital assistant which can not only perform regular functions like setting meeting reminders, making call, setting alarm, turning on/off but also make correct predictions of FIFA World Cup matches, making Pizza orders for Dominos, track packages etc. Cortana has arrived for Windows 10 OS for PCs and tablets. Microsoft has also unveiled the Beta version of Cortana for Android and is working on the iOS version also.
If you have not yet listened to Cortnana's jokes, do it now. Just tap Cortana and tell her "Tell me a joke" and Cortana will tickle your funny bones with her witty jokes.