This tutorial will help you to configure Event Collectors in Windows 10 with the authority of a Target Subscription manager. With this setting you can configure the setting using Local Group Policy Editor. This policy setting allows you to configure the server address, refresh interval, and issuer certificate authority (CA) of a target Subscription Manager. If you enable this policy setting, you can configure the Source Computer to contact a specific FQDN (Fully Qualified Domain Name) or IP Address and request subscription specifics. You can use the following syntax when using the HTTPS protocol:
Server=https://:5986/wsman/SubscriptionManager/WEC,Refresh=,IssuerCA=. When using the HTTP protocol, use port 5985.
If you disable or do not configure this policy setting, the Event Collector computer will not be specified.
Steps to Configure a Target Subscription Manager in Windows 10
1. Press Win+R to open Run window.
2. Type gpedit.msc and hit Enter to open the Local Group policy Editor.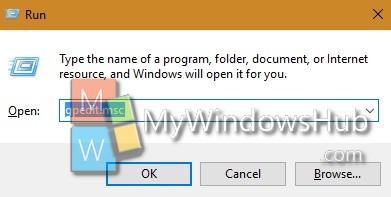 3. Now go to the following location Computer Configuration > Administrative Templates > Windows Components> System > Event Forwarding.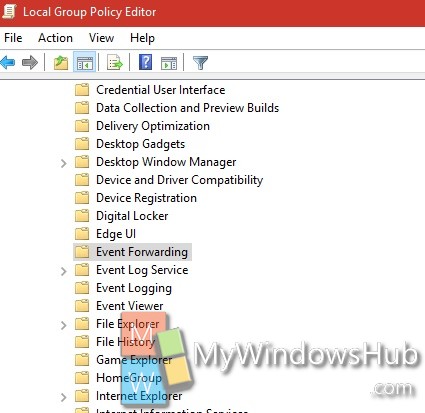 4. In the right panel, you will find the policy setting Configure Target Subscription Manager. Double tap on it to edit the policy.
5. If you want to configure event collector, then tap Enabled. Go to Step 7.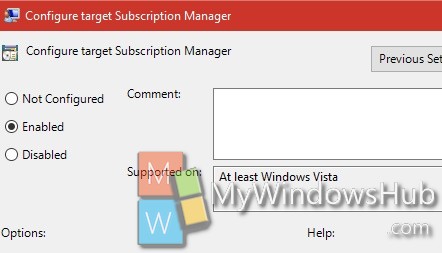 6. If you want to disable the option, click on Disabled.
7. Click OK and then Apply.
8. Close Local Group Policy Editor.