The concept of Charms bar was first introduced in Windows 8. Microsoft took a great leap of transition from Windows 7 to Windows 8. The primary change that was encountered in Windows 8 was the removal of Start Button and inclusion of the Start screen. However the new changes were not at all welcomed by the users. Users who were well accustomed with the concept of Start Button found it extremely difficult without the Start Menu. Moreover the Charms bar and the Start screen, the shortcut keys to operate them and the switching between apps screen complicated the situation all the more.
The users support for the new Windows 8 started to degrade and Microsoft made the hardest of attempts to regain the faith of customers. With Windows 8.1, many of the problems were resolved but not completely. A start Button was brought but not with full functionality. Right clicking the Start Button yielded some basic options whereas left click straightaway redirected to Start Screen.
Finally the latest Windows 10 Technical Preview brought the much coveted features along with it. It brought back a proper Start Menu which consolidated the Start screen Live Tiles as well. You can minimize and maximize the screen. Another wonderful feature incorporated in Windows 10 is Cortana. Now where is the Charms Bar?
The Charms bar has been combined with the Notification Center. Let's see how is the new Charms Bar and what options will it show.
1. You can find a Notification icon. Tap on it.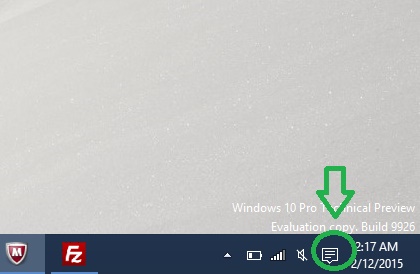 2. Now see the options that are available in the Notification Center. The available options that used to be in the Charms bar are Tablet Mode, Display, Connect, All Settings.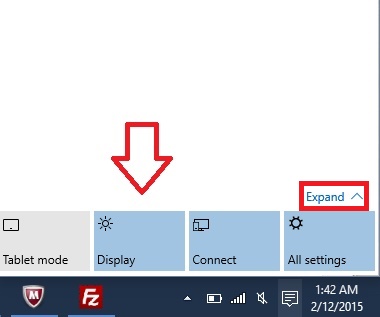 3. You can tap Expand to view additional features like Airplane Mode, location, VPN, Wi-Fi.