Microsoft officially announced in the big event of 21st January that all Windows 7, 8 and Windows 8.1 will get Windows 10 as a free update. The company has released a Technical Preview if the same and if you are a Windows 7 or 8.1 user, then you can try updating your system if you want. Windows 7 users are required to perform the update from Control Panel and Windows 8 and 8.1 users can use either PC Settings or Control Panel. Both should be fine enough.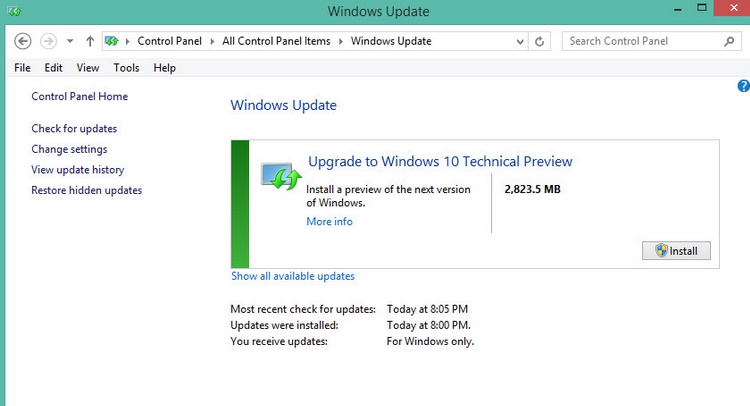 If you are using Control Panel, then go to All Control Panel Items and then choose Windows Update.
You can check the insider.windows.com to know the latest OS version available for your PC. This will be extremely helpful if you are a first time user of Technical Preview build of an OS.
The upgrade might take long time, as much as 5-6 hours due to excessive traffic in Microsoft's server. If you are lucky enough the upgrade process will run smooth.
Once you install the upgrade, you may require to restart your computer. One great thing about this update is that the programs running in your PC will not abort. So basically you won't need to take much headache for this update.
Update your PC to the latest Technical Preview build of Windows and let us know if you have any query.