The Mobile World Congress is approaching and therefore it is trivial a lot of phones and gadgets will pop up in headlines. Now this news is about an alleged Windows Phone of Microsoft Lumia 435. Microsoft is making buzz with the new line up of budget Windows Phones and the screenshot below is an approval slip from ANATEL of Brazil. ANATEL is Brazil's regulatory agency, somewhat equivalent to FCC of the United States. There is a lot of conjectures making rounds in the internet. One is the serial number of the Lumia phone. This is perhaps the first among the lineup to have the model number of 4XX.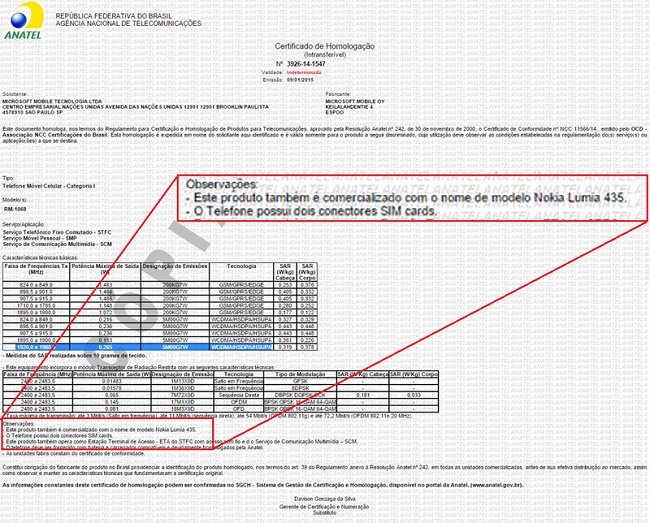 Some sources revealed that Lumia 435 (RM-1068) is another budget phone with dual SIM support. It will have a 4-inch 800 x 480 display. Lumia 435 is expected to run a Snapdragon 200 CPU with 64.7 x 118.1 mm dimensions and a 5 MP rear camera. No more specs has been known about the phone.
Another striking thing which you might have noticed is the Nokia brand name. So there is still a bit of confusion if this piece is something from the past.
We are yet to know about the reliability of the news or if it launches, how different will it be from Lumia 535. We have to wait up to MWC 2015 to get an answer.