Bing has incorporated many new features in its security settings. One of the recently added features will detect harmful online pharmacy shops and warn the user. Online pharmacy is a sensitive domain because it involves health and life of a patient. In United States, several fake online pharmaceutical shops are there which either deals with illegal drugs or carry out fraudulent business. Bing scans and marks those online pharmacies as harmful which are cited as fake by FDA.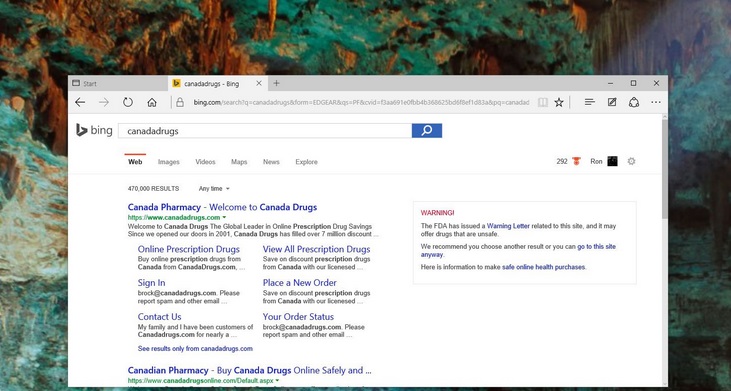 Picture Fred, a 60-year-old man who has a few medical conditions. One of his prescriptions has run out but instead of visiting his regular doctor for a renewal, he decides to search the web where he finds several online pharmacies. One of these makes available a new drug, which is said to work better than his current prescription, and it is cheaper. He buys it. All is well until Fred starts experiencing some serious side effects. These side effects are what stopped the new drug from being approved by the FDA for sale in the United States. While Fred and his specific situation is fictional, this scenario and others like it are very real. The proliferation of online pharmacies, some of which are engaged in illegal and illegitimate practices, can pose a real threat to consumers.
When a US based user will search on Bing for online pharmaceutical shops, then Bing search will display the results along with warnings attached to the fraud websites. The fake online shops include those which are offering potentially dangerous, unapproved, misbranded prescription drugs to customers etc. Bing says, "We will continue to refine our efforts in this area and look for more opportunities to help our users make more well-informed decisions as additional, highly-reliable sources of information become available to us".