Another case solved is a fun interactive mystery game app where you have to solve cases of a candy conspiracy by solving mystery puzzles riddles and much more. The game comes in form of a story line and you have to overcome hurdles of each step and move ahead with the story line of the game. The game is available on the Windows Store and you can install it from there.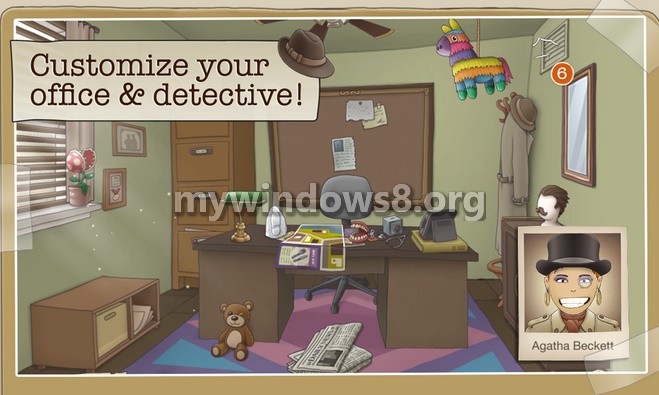 After installation you will need to sign up for your character and as we have seen in other games too, you need to customize your characters by some default features provided. Some more features will be there which can be unlocked after certain stages or by candy and cash.
Next you will be taken through an extensive tutorial sessions where you will be instructed how to play the game. Another Case solved is a product of AT Games and it portrays the times of Sugar Prohibition. You have to start the journey as a Private Investigator and as you proceed the game you will gain experience in becoming the best detective. You have to search crime scenes for clue and solve riddles to get clues of lost candies.
Some basic features available are improving your office, using tools and learning new skills to investigate crime scenes. The game design and style reminded me of Criminal Case that got very popular in Facebook. In this game the animations and graphics have very clean and subtle look. Won't talk much about the game steps as the article would get boring and readers get impatient. It's better to experience yourself. That's what I prefer.
Another Case Solved is a free game and is worth download. It is not a hardcore mystery solving game, neither it is too lightweight. You can have a good experience with the story line at the same time leverage your brain in solving puzzles.
Install Another Case Solved from Windows Store.