We are not unknown to rumors and evidences that Microsoft expressing flexibility in bringing Android apps in Windows Phones but a new tweet from our favorite leaker @evleaks emphasized our assumptions. The tweet read, " Big news: Android-powered Lumia incoming, from Nokia by Microsoft." So this announcement is the news itself as we all know the reputation of @evleaks as an authentic leaker.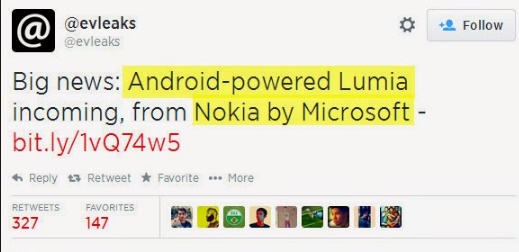 Nokia released its first Android phone Nokia X which even though game with a lot of expectations did not manage to make it big in the market. Owing to the lack of support from developers in developing critical apps fir Windows Phones and the declining Windows market, Nokia is rumored to continue with Android under the brand name "Nokia by Microsoft".
In one of the previous articles we presented news that Microsoft will allow installation of Windows OS in an Android smartphone. Microsoft made a drastic change in its OS with Windows 8 which has been a controversy since then. Even though Windows Phone 8 beat Blackberry and bagged the third position in smartphone market but it's still struggling to enter into competition with Android and iOS. Let's wait for the right time to watch how things turn up for Nokia by Microsoft.