AdDuplex has released their monthly statistics on the phones that are expected to be announced oat Mobile World Congress. AdDuplex is a cross-promotion network Windows Phone and Windows Store Apps. Microsoft will likely to announce a set of Lumia series devices at the Mobile World Congress that will be held in Barcelona from 2nd to 5th March, 2015.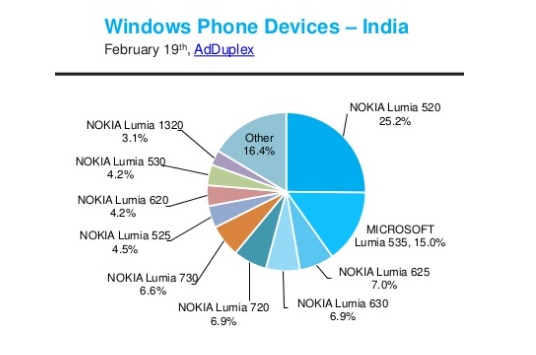 According to statistics found by AdDuplex, Microsoft is likely to announce a number of mid-range and low-end devices which include:
• Microsoft/Nokia RM-1031 – The device is likely to launch soon enough and has 4inch screen and 480 x 800 pixels resolution. When you search the model number online, it returns the matches of Nokia's short-lived Android smartphone, Nokia XL.
• Microsoft/Nokia RM-1062 (AT&T), 64, 65, 66, 67 – These all devices has large screen at 5.7inch and resolution at 720 x 1280 pixels. These all are mid-range 1520 style phablets. One version is on AT&T in USA and likely to be on news at MWC 2015.
• Microsoft/Nokia RM-1072, 73 (AT&T), 74, 75, 76, 77 – The 5inch and 720 x 1280 pixels screened device will likely to hit the market very soon.
• Microsoft RM-1109, RM-1113 – These devices will have 5 inch screen and 720 x 1280 pixels resolution, same as that of RM-1072. These devices are expected to be similar variant of RM-1072. These devices have already been spotted in Brazil (1109) and in Asia (1113).
• Microsoft/Nokia RM-1099 – This is a 4inch screen with resolution 480 x 800 pixels. It has a better camera but similar specifications like Lumia 435.
The report is based on the data collected from 5090 Window phones apps running AdDuplex SDK v.2.
Above are the worldwide and country based charts (pics sourced from AdDuplex) that show the statistics that Microsoft/Nokia made a jump to 96% of all Windows phones in use. Samsung is expected to release more Windows Phone this year.
From the above, we can see that Microsoft and Nokia continues to increase the market share and Samsung, Huawei, HTC and others are lost shares.
The worldwide OS versions show Windows 8.1 has captured the majority of the market and Windows 10 has entered the market in February 2015.