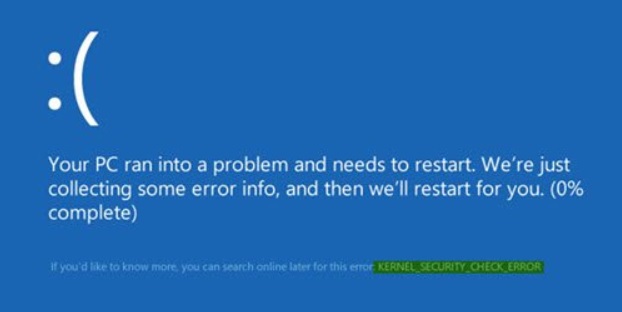 When Windows operating system experiences any unknown bug or issue which refrains the operating system from functioning normally. Windows returns an alert to the users to let them know that their Windows device is in peril. Usually, the errors appear in the following way. The screen turns blue which is also called the infamous Blue Screen of Death. Along with it is a sad smiley to signify that something is wrong. Below this, the error code or failure is given by its representative name. Usually, the error message is given as such "Your PC ran into a problem and needs to restart. We are collecting some error info, and then we will restart for you".
Kernel Security Check Error is a very popular Blue screen error that a Windows user might encounter. If you see this error code on your Blue Screen, then you may initially try out certain things. See, in any of the solutions are fruitful for you.
The first step requires you to install the latest Windows Update available for your device. You can either use the normal Windows update process or download the ISO file and install Windows with the help of a bootable DVD/ USB drive. Next, scan your Windows PC with the anti-virus installed on your system. You can also run a system file checker to check the corrupt files existing on your system and replace them as needed. Also check if your system hard disk, Ram and other hardware stuffs are working properly.
The second method includes booting your Windows device in Safe Mode or Clean Boot State. You can then figure out the problem causing program or driver and uninstall it.
Another option is running the Driver Verifier Manager. The function of the Device Verifier Manager is to check for corrupted drivers. You can uninstall the drivers, or update them, whichever is suitable.
You can scan your hard disk for any further errors. You can do this with the help of Command Prompt. Open the elevated command prompt, type the following command and hit Enter after that. You can reboot your computer for a fresh start. The command is: chkdsk /f C:
Memory Diagnostic tool is one important troubleshooting tool that might come handy. It tests your computer memory, including that of the Random Access Memory (RAM). Run the Memory Diagnostic tool which is in-built and see the result.
The Advanced Startup Boot options will be suitable for you in case you cannot start your Windows 10 PC.
These are some of the basic tips you can follow to save your PC from the nagging Blue Screen error. Hope it helped you!