Some tips for using keyboard faster on you Windows Phone 8.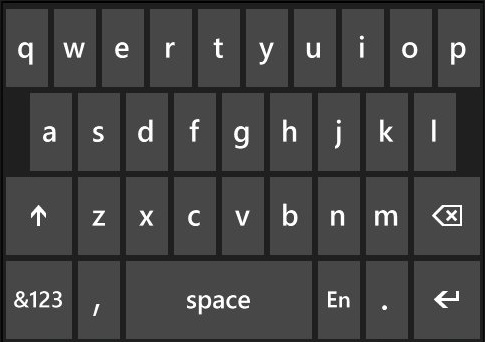 1. Tap space bar twice for period
Tap the spacebar twice to insert a period like full stop or comma. This would help in saving time for the period will be inserted automatically. Although this is a time saving process but this may appear annoying. In that case you will have ti disable it.
2. Swipe to numbers or symbols
If you want to type a number or symbol quickly, you can do it faster by swiping from the symbol button &123 to the number or symbol by pressing and holding the &123 button and then dragging it to the symbol you want to insert.
3. Swipe to common punctuation
If you want to complete your sentence with insertion of punctuation automatically then first press and hold the period button and then drag your finger to any of the common punctuation of your choice.
4. Swipe to .org, .edu, or .net
URL has some common domain names that are saved in your mobile keyboard. By default .com button is present but if you require to insert some other server names like .org or .edu then press and hold the .com button and swipe to the name you need.
5. Press and hold for CAPS LOCK
You may be wondering that the capslock button is not there and everytime you type something in block letters you have to keep on tapping the shift key for every letter. But no! There's definitely a caps lock. Double tapping the shift button turns om the caps lock and re tapping turns it off.
6. Fast emoticons
If you are one of those who types more smileys than words then you also do have a way out for doing things faster. Go to settings > keyboard > advanced, and click the box that says "switch back to letters after I type an emoticon." Uncheck the option if you send many emoticons consecutively in one message.
7. Add words to Word Flow
Almost all smartphones give word suggestions while you type a sentence and Windows phones are no exception. Use the suggested words and if you type typical proper nouns quite often add it to dictionary. Type the word for the first time and select it. Tap the plus sign to add it to the suggestion list. If you want to remove any word type it and when it appears on the suggestion list hold it and remove it from the list. You can reset the suggestions list by going to settings > keyboard > advanced, and clicking the 'reset suggestions' button.