Are you missing the Classic Desktop style in Windows 8? Don't worry, with a new software, RetroUI you can bring back the classic desktop view in your windows 8 PC.
What is Thinix RetroUI?
If you are uncomfortable with Windows 8 Metro UI and missing the conventional classic desktop style of Windows 7 or Vista, then RetroUI is the right choice for you. RetroUI is Developed by software company Thinix. As the name implies, it gives you a retro User Interface to use with Windows 8. You can either configure it to send you straight to the classic desktop upon log in with Metro features still present, or completely lock out the MetroUI and restrict the user to the classic desktop view.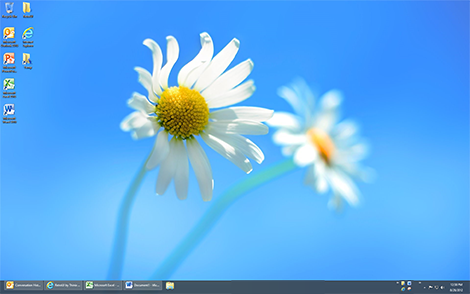 Windows 8 Metro UI is optimized mainly for touch screen devices. No doubt Metro UI is eye candy, but if you are not using a windows tablet or a touch screen PC, Windows 8 Metro UI may not be found so appealing to you. Adaptation of Metro UI can be the reason for many Windows users not to upgrade their PCs to Windows 8. For example, in many offices, business houses or Schools users may face problems to use Metro UI and it can slow down their daily works. So, Thinix, RetroUI is really a great Add on or Utility for Windows 8. It is a great relief for those users who want to enjoy the new features of Windows 8 in classic desktop view. So, if Metro UI is the only reason, that's why you are not thinking to upgrade your PC to Windows 8 RetroUI is what you need.
Pricing and Download
You can purchase RetroUI from Thinx for a reasonable price: $4.99 for a 3-user consumer license with a week-long free trial.
Get more details on RetroUI Buy Retro UI.