Tenorshare has a plethora of software solutions for different platforms and their related technical issues. Tenorshare ReiBoot is one such software application that aims to solve technical issues of iPhones stuck in recovery mode. The software is compatible with iOS 10 and is available for both Mac OS X and Windows operating system. The software not only resolves issues with iPhones but also with other iOS devices including issues of iTunes. Here, we are reviewing the software available for Windows operating system.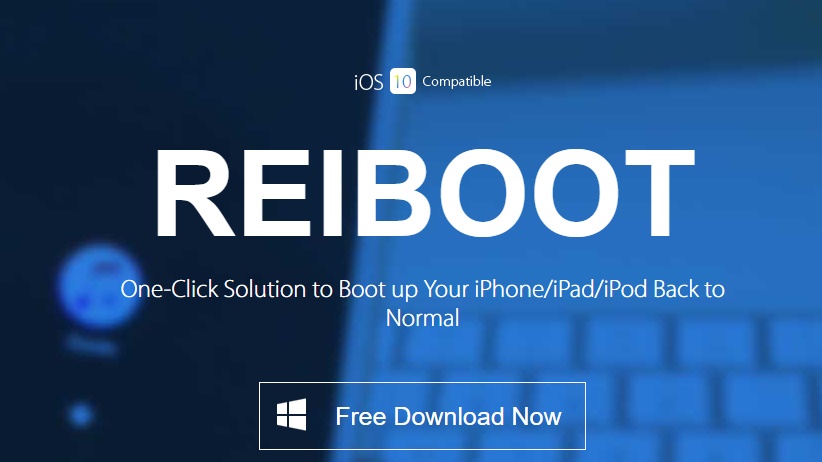 There are several situations that your iPhone can encounter:
1. If your iPhone gets stuck at Apple Logo, then it implies that there must be some serious issue with the operating system. The technical fault due to iOS can arise out of several available options such upgrading to a new version of the iOS, jailbreak, beta versions which are either unstable or expired, problem in restoration from backup iPhone, iPad, iPod or iPod touch. If you have found your iPhone stuck at White apple Logo, then ReiBoot will be the best solutuion for you. The software will resolve White Apple Logo problem with all of iPhone 7/SE/6s/6 and iPad Pro, iPad Air.
2. iPhones stuck in recovery mode. This problem is genuinely a horrifying experience and our lives go at stake when we land up with our iPhones stuck in recovery mode. One of the prime reasons that iPhones get stuck in recovery mode is insufficient battery level while upgrading to higher OS version. Whatever be the reason, the problem is serious and can ruin your iPhone forever. The beauty of the ReiBoot software lies in the fact that the software program not only solves this issue smoothly but also does this in just 2 steps. After installation of the ReiBoot software and connect your iOS device to the PC. The software has strong problem analysis capability and hence will highlight the "Exit Recovery Mode" . Select it and your device exits from recovery mode in a jiffy.
3. Reboot loop is another serious problem that boots your iOS device repeatedly in a loop. Such problem can arise due to blue screen of death, temporary disability of the Home or Sleep/Wake button, touchscreen, jailbreak, connectivity issue with iTunes etc. The solution is very simple. Just as you connect your iOS device to the computer, the software will automatically detect your problem and will highlight "Exit Recovery Mode" option.
In all of the above mentioned faults, ReiBoot works like a magician. In other word, the software is one solution for all problems. It can resolve all such technical faults for a wide range of iOS devices like iPhone, iPad and iPod Touch stuck in Recovery Mode after iOS 10.1, 10, 9.3, 9.2, 9.1, 9, 9.4, 8.3, 8.2, 8.1, 7.1, 6 upgrade, restore, jailbreak.
Pros
There is no need to jot down the positive aspects, because the software is in one word great! It works, super fast, solves problem in just one click. This means users do not need to do much, ReiBoot can itself diagnose the problem and resolve it. The steps are self explanatory.
Cons
There is practically no negative points in the software. The main software page contains the step by step description for every solution.
Click here to download Tenorshare ReiBoot