It is always good to understand your system configuration and its limitations as a smart user. Yet sometimes, all you need is to have a detailed report regarding system configuration. That may include the hardware and software components. Going through system properties and BIOS is not enough to gather all the necessary information. Following the path, you might end up installing a lot of software on the internet. In this case, who else understands and scans your system deeply other than Piriform's own Speccy tool. This article shall discuss a freeware tool from Piriform, "Speccy," that helps you gather all essential details sitting deep inside your system.
Speccy is a lightweight, advanced system information tool that scans and presents you with a detailed report mentioning all essential details such as CPU, motherboard, RAM, graphics card, storage, etc. You might have heard the Piriform earlier due to its excellent tools such as CCleaner, Recuva, and Defraggler.
How can I install Speccy on my system?
Visit this link and scroll down to see the "Free Download" button. If you want premium features, then you can opt for the paid versions as well.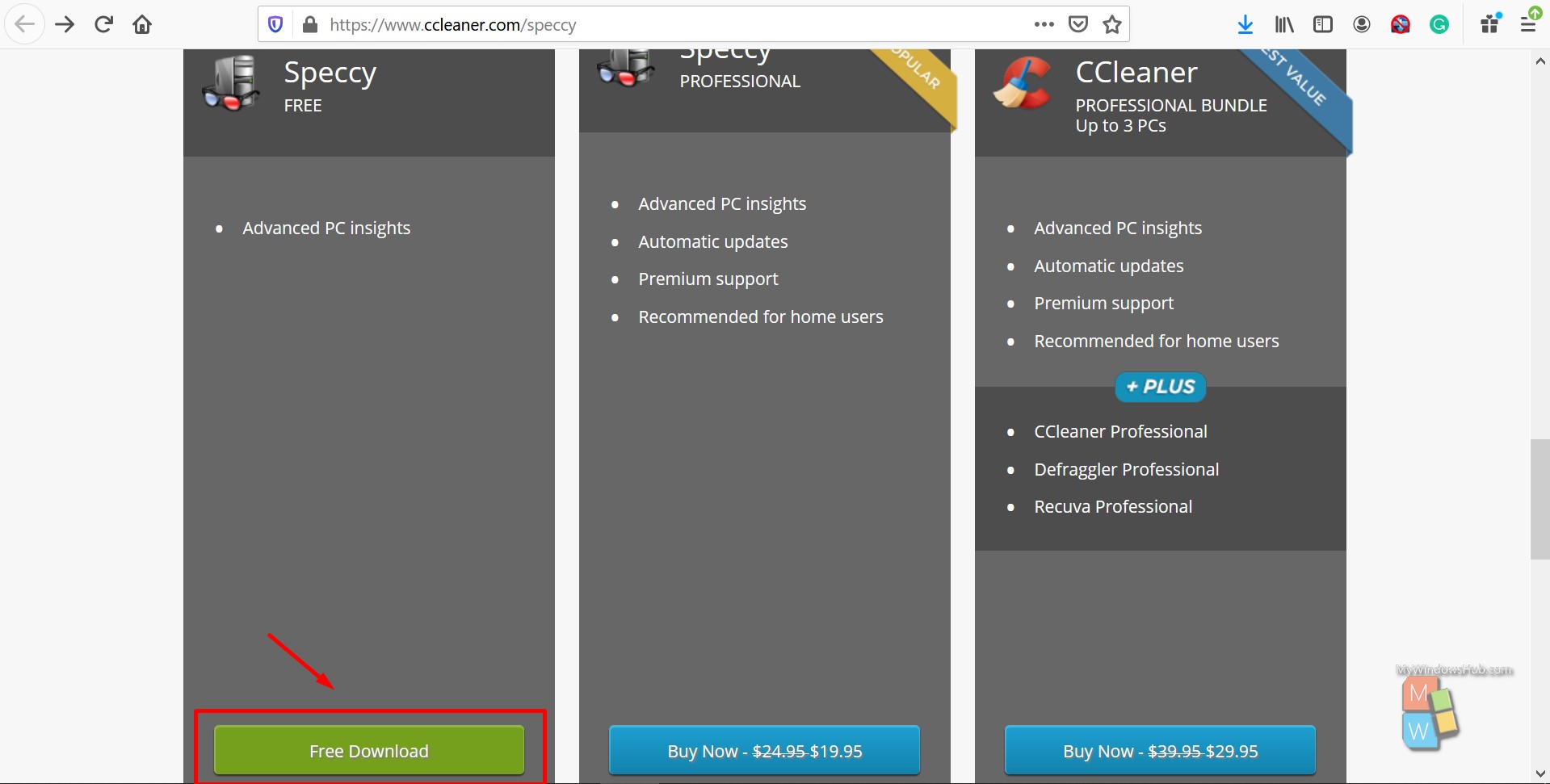 Based on your selection, you will be redirected to another page and click the "Download" button to begin.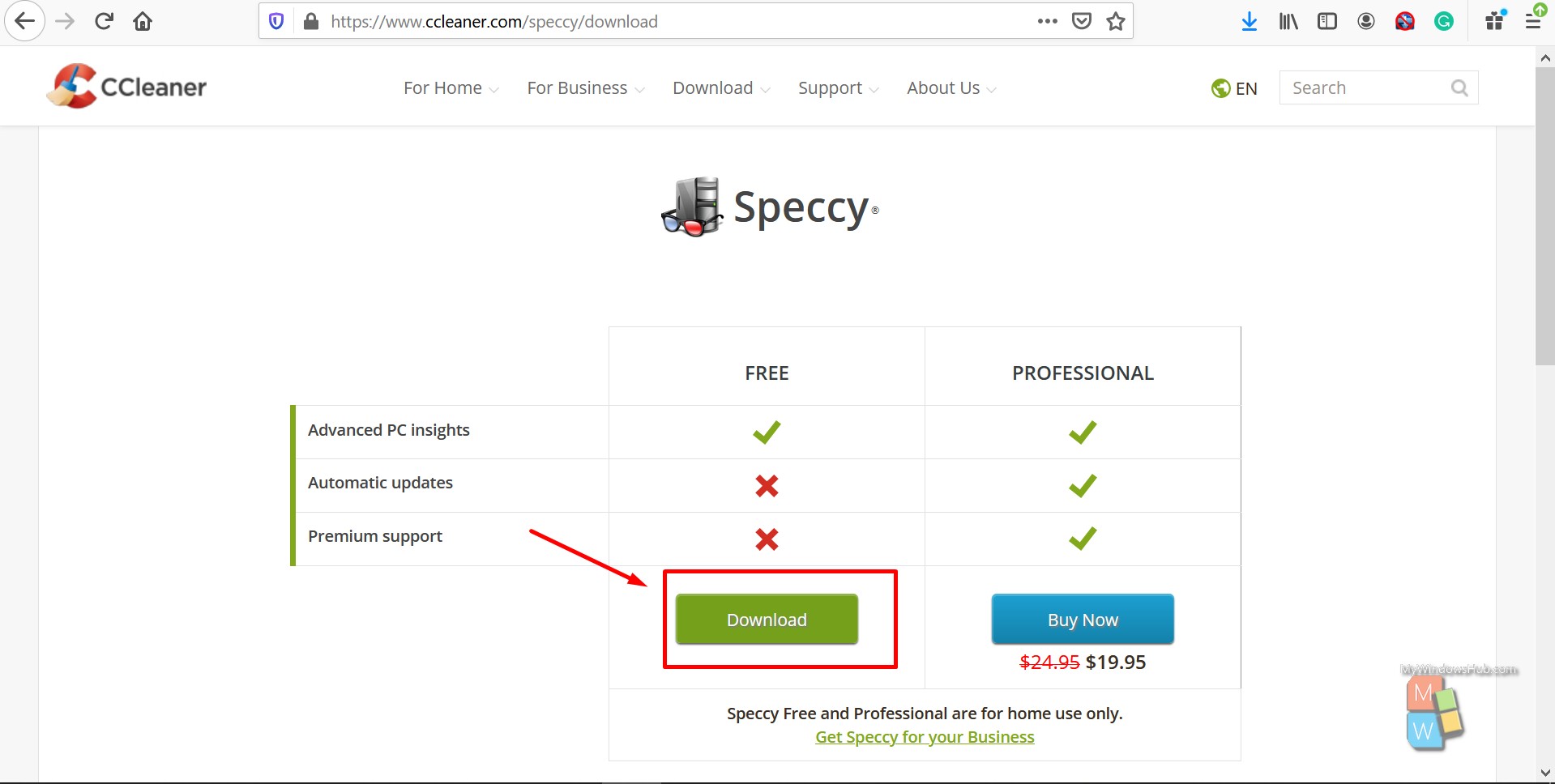 The website will automatically detect your operating system and will ask you to download the installation file. In our case, we are reviewing this product on a Windows 10 machine.
Open the executable file and complete the installation by clicking the "Install" button as mentioned bellow.
System requirements:
Available for both 32-bit and 64-bit versions of Windows 10 and below.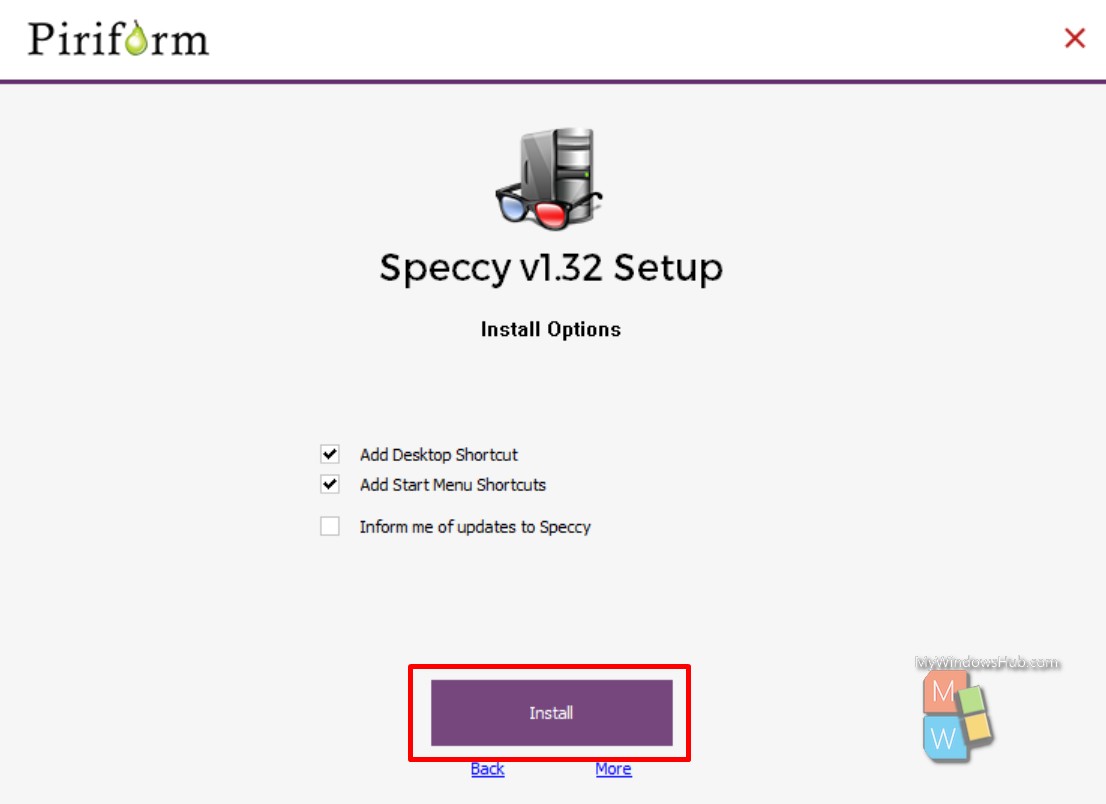 In-depth review of Speccy:
Once the installation is done, open the Speccy application, and you shall be able to see the below welcome screen mentioning summary of your system,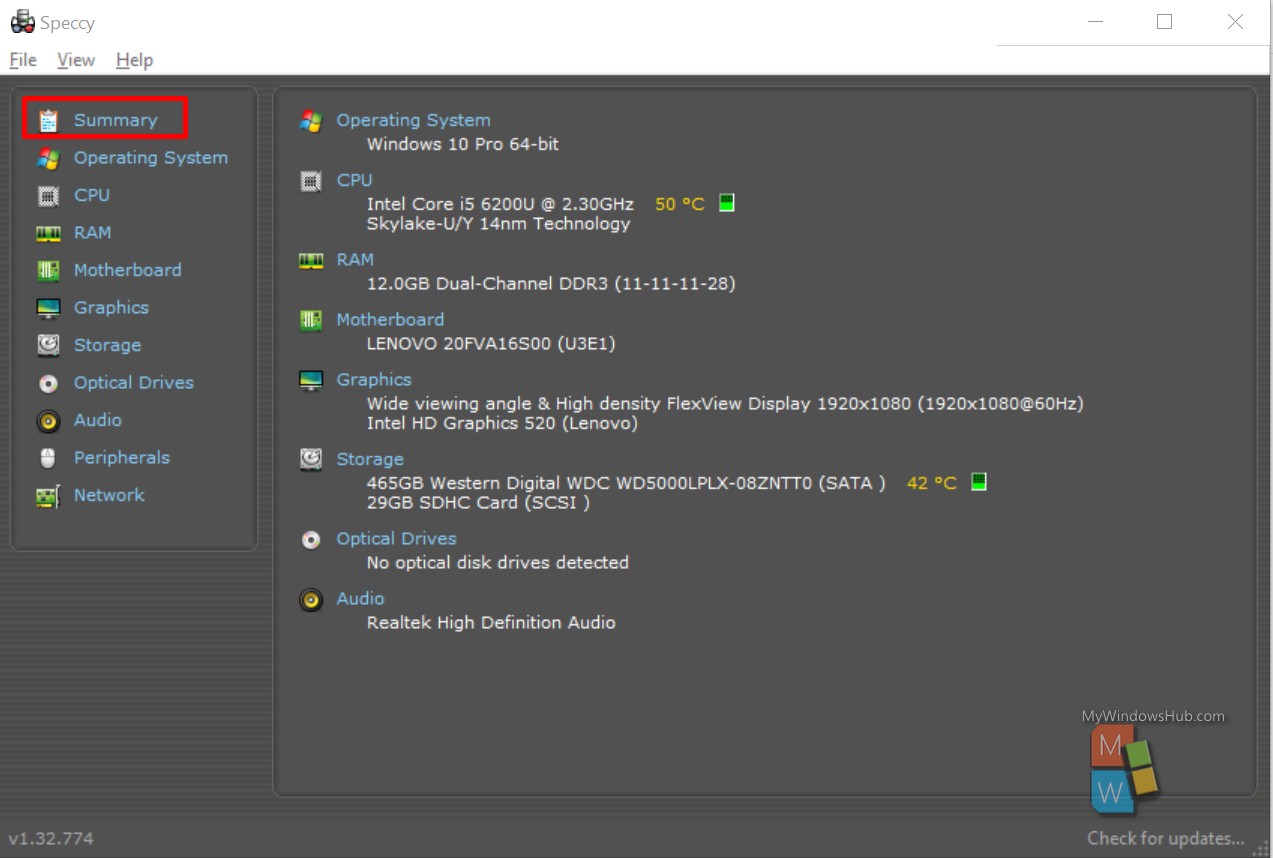 You can navigate to other tabs by selecting the link present on the extreme left. Below are the available tabs to explore,
Summary – Summarizes the complete system details, including both softwares and hardware.
Operating system – Shows information regarding the underlying operating system such as installation date, version, and other installed softwares.
CPU – This tab shows CPU information, such as the number of cores, threads, maximum clock speed, cache memory, and, most importantly, CPU core temperature.
Motherboard – This tab shows motherboard details such as manufacturer, BIOS version, and PCI Slot data.
Graphics – This tab summarizes the GPU details such as available Graphics card, screen refresh rate, resolution, etc.
Storage – This tab shows detail regarding the plugged-in storage devices such as Hard disk drive/ Solid-state drive or removal drives.
Optical drives – These days, systems are not coming with optical drives, so this section will mostly be blank. And in case you have an optical disk, then you shall be able to see the details.
Audio – This tab includes details regarding audio devices and drivers.
Peripherals – This section shall see details of all the connected peripherals such as the keyboard, pointing device, printers, etc.
Network – This section shall see details of all networking adapters such as WLAN, ethernet port.
Why Speccy?
We have been exploring many system information tools, and we found that Pirifrom's Speccy tops the list because of its extensibility while displaying the details. We saw many pros and cons after exploring this tool for a while, as listed below,
Pros:
Easy to download and install.
Detailed information for a wide range of components
For the paid version, you can export the results as XML or TXT format.
Comes with a summary page.
User-friendly application.
Summary:
This article has provided you with an in-depth review of the advanced system information tool, "Speccy." We found that it is an excellent tool compared to other competitors with its deep scanning technology, and you should definitely give it a try.