Windows Spotlight is a beautiful addition to Windows 10 that adds stunning lock screen images to Windows 10. These images are saved in local disk as temporary image files. You can save the images to a different disk or location. You can use them as wallpapers. But this image is saved manually by this process. But if you are a fan of automatic process, then you can opt for an app. This application is called Lock Screen Reflection. It's a free Windows utility that will enable you to set the Windows Spotlight image as your wallpaper. One important thing to remember is that you have to turn on Windows Spotlight in order to enjoy the Spotlight images as your wallpaper for Windows 10.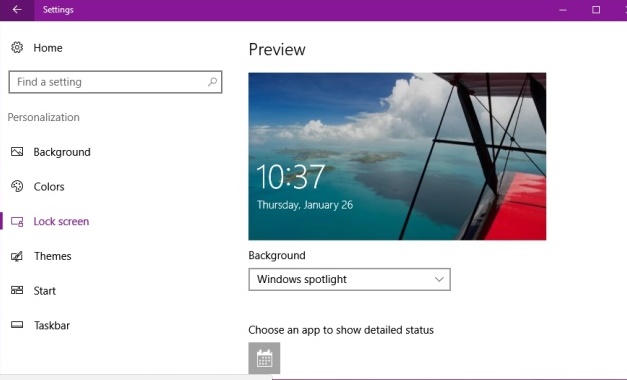 Check out the steps to set the Windows Spotlight Image as your Windows 10 wallpaper:
Steps to set the Windows Spotlight Image as your Wallpaper in Windows 10
1. Open Start Button and click on Settings.
2. Go to the Personalization and go to Lock Screen.
3. Open the Background menu, select 'Windows Spotlight'. It will take few seconds to update your lock screen image.
4. The best thing about Lock Screen Reflection is that it doesn't require to be installed. Whenever you get a lockscreen image, just run the application. It will update the wallpaper to match your lock screen.
So the app does not check periodically for the new lockscreen images. You have to remain conscious about it and run the app from time to time. So in one word, this application makes the image saving and changing in one shot.
Next, to set the wallpaper as tiled, centered etc, you can set the image in the chosen format with the help of command prompt. Write the following command with the following codes
lsr.exe "C:\images\My Image.jpg" 2
Check out the codes:
0 for Tiled
1 for Centered
2 for Stretched
3 for Fit
4 for Fill