Data loss is an alarming issue in this era of smartphones. We tend to input too much of the information we have into the smartphones. The over burdening of info on a device can increase the perils of data loss and many such problems. Aiseesoft FoneLab is a reliable iPhone Data recovery software that can effortlessly recover your lost iPhone data. The application is a versatile one and can recover data from any iOS device, including the new iPhone X, and it goes down to the oldest of iOS devices like the iPhone 4S.
There are several circumstances under which your iPhone can lose its data. For an instance, if your iPhone is locked permanently due to wrong entering of passwords, or your iPhone got physical damage to a great extent, you can use this software without any doubt. Aiseesoft FoneLab iPhone Data Recovery software extracts the information usually from the iTunes. If you have synced your data, or, to say in the simplest words, if you have ever connected to iTunes properly, then Aiseesoft FoneLab can surely extract the information and recover them for you. Even if you have not yet created any backup, it doesn't matter. You can get back all your data from your messed up iOS device. There are some other instances like broken iOS device, lost messages, WhatsApp messages, notes, etc. You can also recover deleted iMessages from iPhone. In all the above mentioned instances, the application works wonder. Let's have a look at the installation process.
Steps To Use Aiseesoft FoneLab iPhone Data Recovery
1. Download the Aiseesoft FoneLab iPhone Data Recovery .exe file. To download, click here. After download is complete, run the file to start installation. As the Setup opens, select language, go to the following steps as it comes.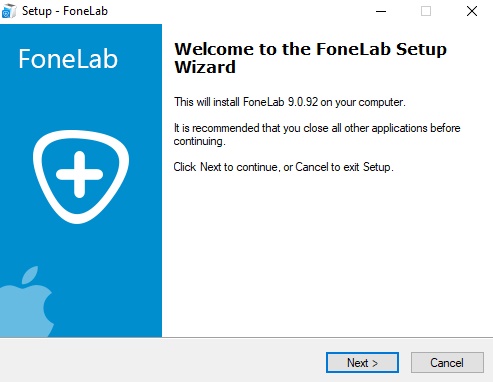 2. Finally, click on Install. The installation takes very little time to complete.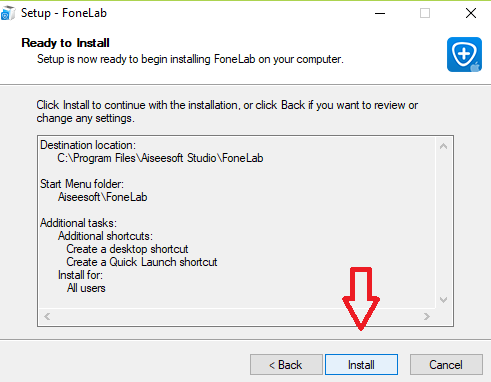 3. As soon as it is installed, you have to register it to the application. Registering or entering a license means you have to use a paid version of the software. If you don't have a license, and you want to continue with the free version, then you can skip. For those with licenses, enter your email and license to use the full version of the software.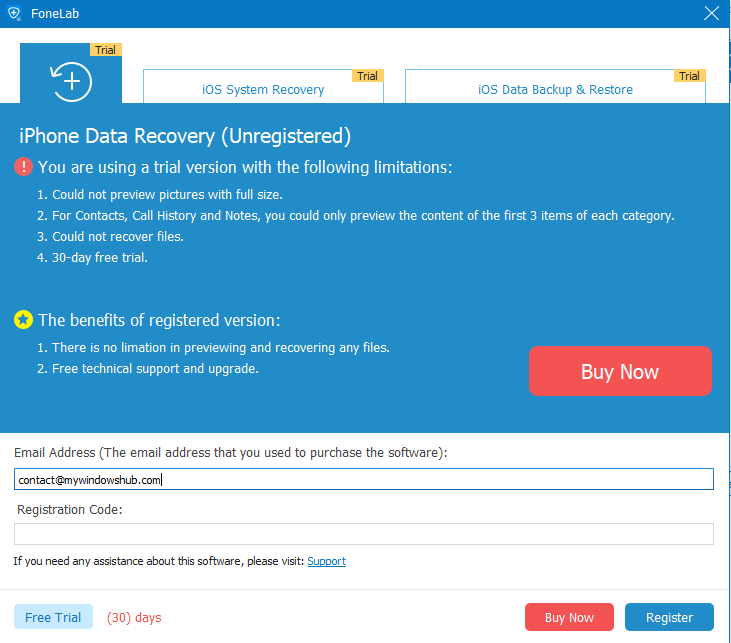 4. As you open the software, you will come across a neatly designed UI. You have three main recovery option that can be accomplished. The options are straight forward and simple. The options are Recover from iOS device, Recover from iTunes backup files, Reover from iCloud Backup file.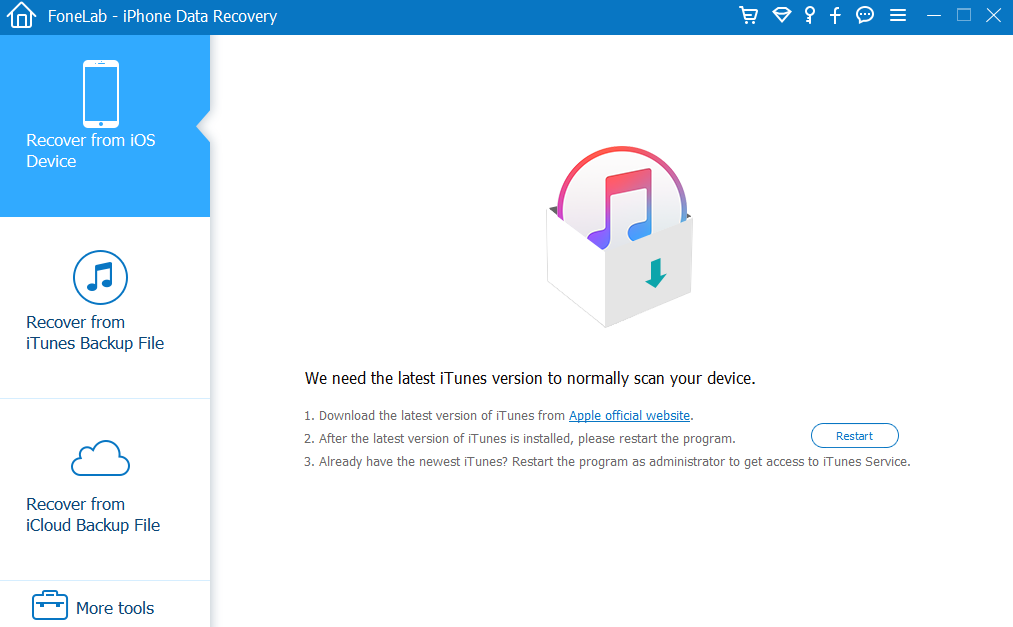 5. Now all you need to do is to authorize your computer to backup or recover the data. The process is simple and super fast. All the backed up and recovered files appear in the form of lists. There will be scan option. You have to connect your iOS device o the Windows PC. The scan option will run a quick scan through the software. Next, tap on the Recover software. Aiseesoft FoneLab also allows you to recover any lost WhatsApp messages and file attachments.
FoneLab iPhone Data Recovery has been fruitful for us. Hope it is the same for you. I liked the crisp and prominent options with the user friendly UI. The Aiseesoft Fone Lab is a Windows OS based software, but still supports almost 19 types of files from IOS devices. So, cross platform connectivity is also amazing. Overall, the application is commendable. If there is a single point to discuss, it is the limited scope for free users. Other than that, this software is a life saviour application for iOS users.