Yesterday has been a great day for Microsoft as it unveiled the new Surface Studio All-in-One PC along with a number of interesting tools and peripheral devices. To be honest, the Redmond based tech giant hasn't actually made much fuss about the new devices. The company has launched the Surface Dial which is a modern interactive tool worth $99.99. Surface Dial is a switch but not just another switch. It is a wireless knob that lets you tune a plethora of things for a plethora of applications. One one hand you can use it to tune your musical notes. On the other hand, you can use it to tune graphical drawings. So you can imagine the wide spectrum in which Dial works. This works as a perfect complement with Windows 10 PC. Surface Dial is available for pre-order.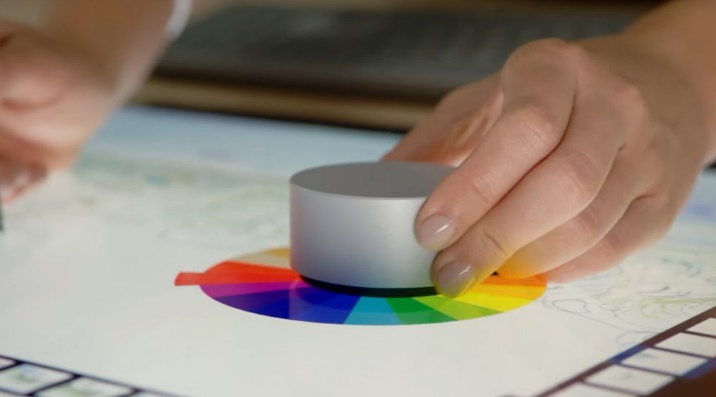 Next comes an important peripheral that Microsoft has been talking about religiously for fee months. It's the Surface mouse. No matter it may appear to you like a Bluetooth mouse priced at $49.99, it is beyond that. It resembles closely to Microsoft's Designer Bluetooth Mouse but instead of black, its color is gray. The Surface Mouse will have an exceptionally strong wireless range of 50 feet and a battery life double that of the Bluetooth mouse. The average battery life of Surface Mouse has been mentioned as 12 months whereas that of Microsoft's Bluetooth mouse is 6 months.
Microsoft has unveiled another wireless device, the Surface Keyboard. Just like Surface Mouse, it's not just a differently colored Bluetooth keyboard. It comes with strong extended wireless coverage and great battery life. The Surface Keyboard costs $129.99. Now coming to the utility part, if you are not in requirement of such high wireless area coverage, you nay settle for the Bluetooth Mouse and Desktop which will together cost you approximately $100. On the other hand the Surface Mouse and Surface Keyboard prices add up to $180. So customers should make the purchase keeping in mind the utility and requirements.
Microsoft Surface users and users who keep an eye on Microsoft's products and peripherals must be knowing about The all new Surface Ergonomic Keyboard. The design of Surface Ergonomic Keyboard is quite similar to the company's previously launched Sculpt Ergonomic Keyboard. The Ergonomic keyboard features integrated numberpad, leaving no gap in thr center of the keyboard. It comes with two Windows keys and new Fn key towards the bottom left. The peripheral device is priced at $129.99.
All these three devices of the new Surface peripherals are available to pre-order now, ahead of their release on November 10. So check out if you are interested in bagging one or more of these peripherals.