The Homegroup feature in Windows operating system helps users share photo, documents, music, videos on a home network consisting of two or more computers. It also enables streaming of media files. Homegroup can be created in Windows 7, Windows 8, Windows 8.1 and Windows 10 with some exceptions. Windows 7 Starter, Windows 7 Home Basic, and Windows RT cannot create Homegroup but can join homegroups. When you create a Homegroup you will be given a password. This password will be required by other computers for joining your Homegroup. Except Guest accounts, all user accounts which have joined a Homegroup becomes a member of the group. You can join computers to a homegroup irrespective of wired and wireless networking. If your PC is joined to a domain, you can join a homegroup but in this case, you cannot create a homegroup. You can access files and resources on other homegroup PCs, but you cannot share your own files and resources with the homegroup. Another important point about Windows 10 Homegroups are that all homegroup PCs must be synced in time and date. If you want you can exit out of a Homegroup any time you want. The following tutorial will help you to leave a Homegroup in Windows 10.
Steps to Leave a Homegroup in Windows 10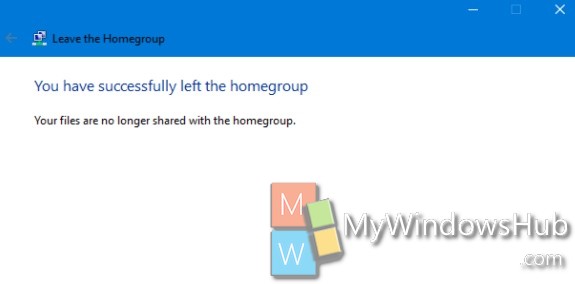 1. Right click on the Start Button, and go to Control Panel.
2. You can search Homegroup in Control Panel search area.
3. As Homegroup settings opens, scroll down and find out the "Leave the Homegroup" option. Click on it.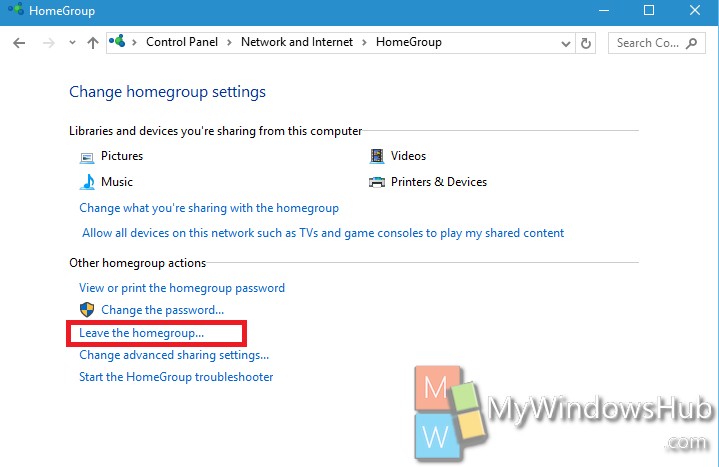 This process should exit you out of the Homegroup but if it doesn't happen perform the remaining steps.
4. Open File Explorer.
5. Copy and paste the following location in the address bar
C:\Windows\ServiceProfiles\LocalService\AppData\Roaming\PeerNetworking
6. Delete all the content inside the PeerNetwroking folder.
7. Close the Homegroup and restart your computer.
8. Repeat step 1 to step 3.