Once upon a time, we used to save money for buying DVDs of our favorite movies and albums. DVD players had a good position in our home. Now we miss those days. DVDs are becoming obsolete.  Due to the emergence of convenient network video streaming services, mobile apps, and online stores and the infamous pirated copies available in Torrents. As the DVD technology is slowly being replaced by more advanced technologies, we have no other option but to convert  DVD disc to digital. For example, if you had been collecting DVDs for a long time and you don't want to lose your collections, you can convert or rip DVD to MP4. For this, you need a ripping software. There are copious software applications available in the market. Here, I am reviewing a very popular software by Digiarty. It's called the WinX DVD Ripper Platinum. 
WinX DVD Ripper Platinum is a very powerful software, that is boosted by Level 3 hardware accelerator. Level 3 hardware accelerator performs certain encoding, decoding and video processing functions that prevent the output videos from getting distorted. It also speeds up the ripping process, increasing up to 50% of its original speed. It can perform a plethora of operations like converting DVD to MP4, H.264, AVI, MPEG, WMV, MOV and M2TS. Also, it converts DVDs for playback on Apple (iPhone, iPad, Apple TV, iTunes), Android (Samsung, Huawei, Nexus, Kindle), Microsoft (Xbox, Windows Phone, Surface), Sony, etc.
Learn more details on why we need a hardware accelerated DVD ripper >>
Up to 500 FPS maximally in convert DVD disc to Digital MP4 format.  The results may vary depending on the CPU/GPU you are using!
The following tutorial will help you to install and use the WinX DVD Ripper Platinum software.
Steps to Install and Use the WinX DVD Ripper Platinum software
1. First, you have to install download WinX DVD Ripper Platinum. Download the .exe file and run it to start the installation. Next, you will be asked to select your preferred language. Click OK. As the setup file opens, click Next to continue.
2. Then, a couple of instructions will come which are easy to follow. Like, you have to accept the terms and conditions, creating shortcuts on Desktops, etc. Do as you are directed and finally click on Install. The installation will be complete within a blink of an eye.
3. The app will open and will request you to enter the product license. This license is available to users who have purchased the software application. If you are first time user, then we would recommend you to test the free version to rip DVD first. That said, if you have purchased a new license, then enter the license number.
If you'd like to enjoy the Hardware accelerated DVD ripper with free update service, then you can get WinX DVD Ripper lifetime license: Up to 65% OFF!  The purchase is guarded with 30 days money back guarantee, so do not worry you will satisfy with it.  If you've already got license code from the developer Digiarty, then upgrade your DVD ripper to the latest version!
4. The user interface is neat and feature rich. The workspace and Run buttons are very big and prominent to catch the users' attention. The worksoace is the left panel where you have to drag and drop the DVD. So the first step is loading your DVD to your computer's DVD writer. Next tap on the workspace to add the DVD content.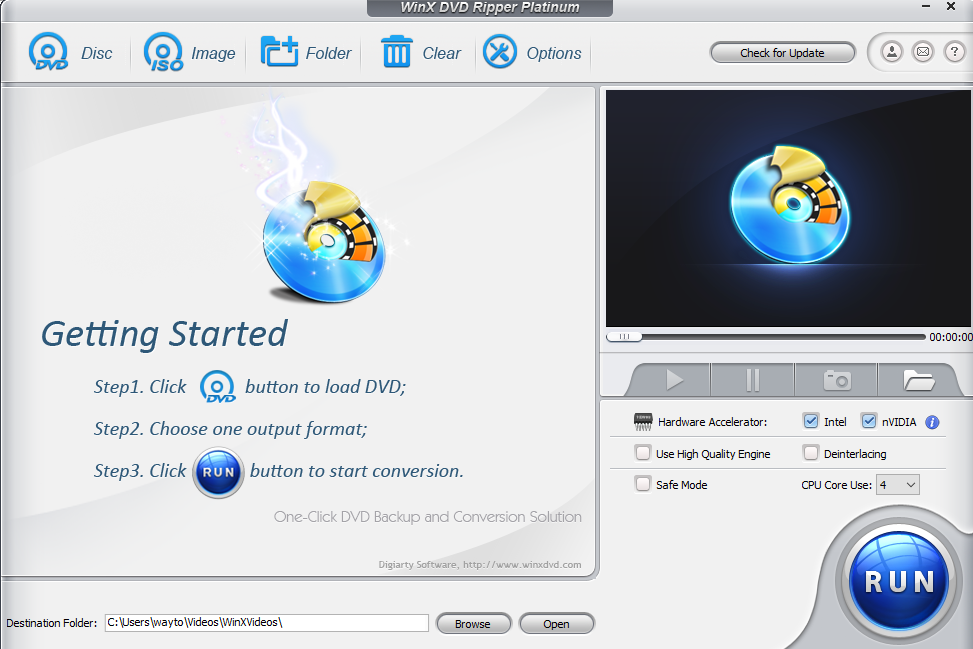 5. Next, you have to choose the output file format. For example, if you want to convert your DVD disc to MP4 for your computers, then select MP4. There are other formats like iPhone/iPad, AVI, Android format.  WinX DVD Ripper Platinum is pre-installed with 350+ profiles, thus you can easily find your desired one.
Tips: you may have some DVD collections that is encrypted by region codes, fake titles or CSS or other DVD protection technology, and WinX DVD Ripper Platinum can detect the right one that contains the full content.  
6. It may happen that you dont want to rip every song from a DVD but just your favorite ones, then choose the titles which you want to rip.
Click on the Run button to start the disc to digital ripping process.
The conversion is accomplished in a very short time. Although, converting DVD Disc to digital is leveraged by level 3 hardware accelerator, yet ripping speed varies depending on computer-aided test environment, like CPU, GPU and the DVD duration, file size,  etc.
WinX DVD Ripper is a powerful tool that can rip your DVD discs to digital format very smoothly and quickly. We highly recommend you trying the free version of the application.
Read about Disc to Digital: VUDU vs WinX DVD Ripper