DVD Ripping is a common task that all computer users are aware of. Now that almost all of us have smartphones in our possession, it's very obvious that we would want to have the movies from our old DVD collections to our smartphones. That's when DVD Ripper comes into play. If you have ever seen torrent sites or downloaded movies from there, you might have noticed DVD Rip versions and CD rip versions. These are the videos ripped from DVDs and converted to versions that can be watched on mobile, laptops, tablets, etc. The main function of a DVD Ripper, is thus, converting DVD ISO images into the hard drive into formats like MP4, H.264, AVI, MPEG, WMV, MOV and M2TS.
There is a plethora of DVD Ripping software applications that are reigning in the market. WinX DVD is one such software. We have reviewed the software and in this article we will discuss our experience while using the software. WinX also supports conversion of DVDs into audio format for Apple devices like iPhone, iPad, Apple TV, iTunes), Android devices like Samsung, Nexus, Kindle, some Microsoft products like Xbox, Windows Phone, Surface and Sony, etc. The following few steps will show you how to convert DVD to MP4.
User Guide for using WinX DVD Ripper (Windows)
1. First download WinX DVD Ripper Platinum. Then run the .exe file. Select your preferred language and click on OK.
2. Now, WinX DVD Ripper Platinum Setup file opens. Click Next to continue. This will be followed by a couple of more instructions. Follow them.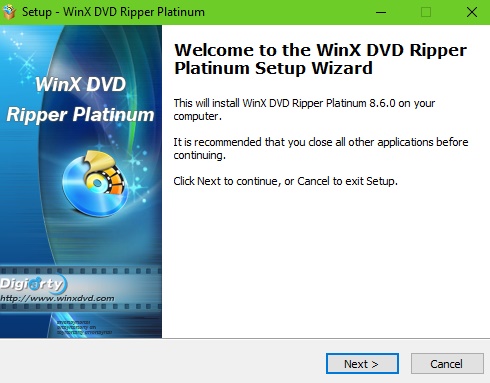 3. Click Install. The installation will take several seconds. Once it is complete, click Finish.
4. Now enter a license, if you have purchased the application. Else, continue with the free version.
Free download, licensed copy of WinX DVD Ripper Platinum (giveaway)
Buy WinX DVD Ripper with Discount and enjoy Lifetime Free Upgrade
5. After registering, the application opens. In the left panel you will find the steps to be performed in promiment font. The steps are self explanatory. Enter the DVD in your DVD Drive. Click on the DVD Disc option located at the top left corner of the UI. Select it. It will detect the DVD inserted.
6. Now the output profile will open. This part is very important. Here you have to select the format like MP4 or Android or iPhone, etc. Then select the quality of the output. The higher the quality the slower the ripping process. Click OK.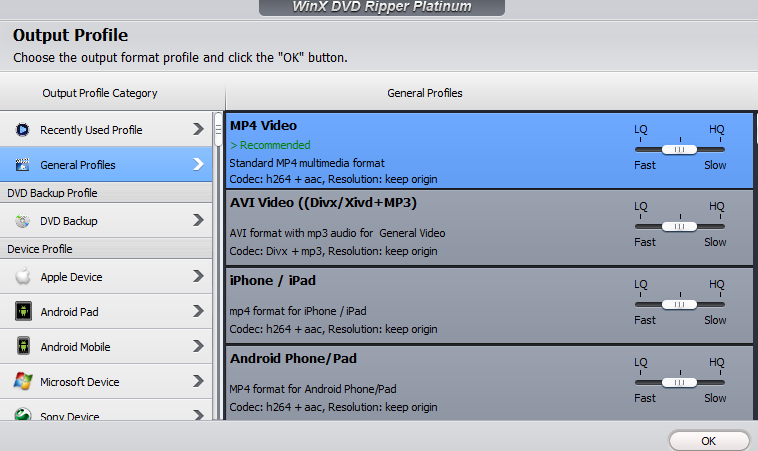 7. The destination folder is shown at the bottom panel. You can change it. Now, finally click Run to start ripping. The ripping process will start. You can check the estimated time of ripping. Since I chose the highest quality, the estimated time showed 1 hour 12 minutes. However, in practice, it took the same time to rip the entire DVD.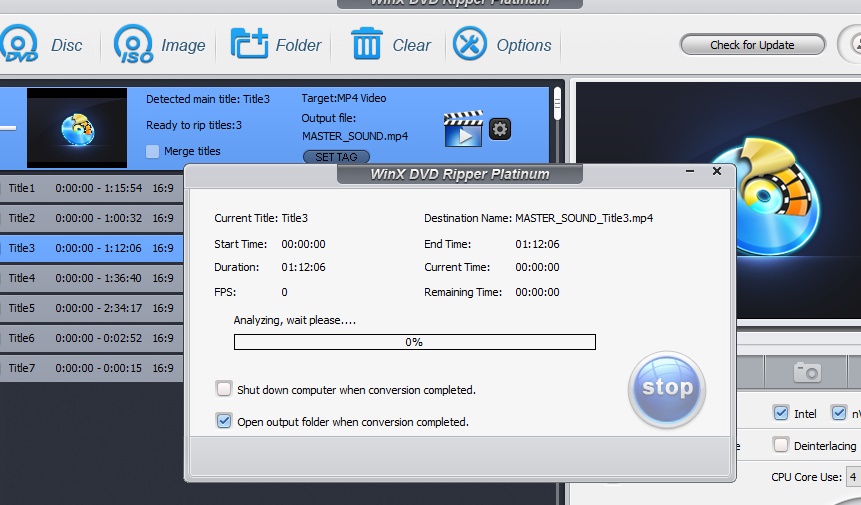 8. When the ripping is complete, it shows the following message.
The software is really an efficient one. The one thing that I really liked is its user friendly interface. There are many ripping software applications like this one but not every Ui has been crafted to beautifully as this one.
Ripping speed also gets a thumbs up. Ripping time depends on DVD capacity, desired quality of output, and data.
It is a flexible software and Intel QSV and NVIDIA (CUDA) NVENC based hardware acceleration and Hyper-threading. Converting a DVD movie takes as short as 5 minutes only.
The software from Digiarty is a great one to rip all your old movie collections. I shall recommend my viewers use this product.
About Digiarty Software:
With 11 years of experience in the industry, Digiarty is now a leader in personal and home-use video audio applications based on Windows and Mac OS. It provides fast and easy-to-use Mac DVD ripper/copier/creator, video converter, online video downloader, media player, iPhone file manager, video audio streaming app, etc.