Windows 10 has added several new features and Compact OS is one of the most useful additions. The Compact OS tool helps you save space in your Windows 10 by compressing certain system files. The compression procedure curtails unnecessary functions and compresses files for the entire operating system, including preloaded desktop applications. Compact OS can single handedly compress files with efficiency without the need for any third party apps. Compact OS is supported on both UEFI-based and BIOS-based Windows 10 installations. The compression saves you approximately 2 GB of storage which is pretty good if your OS is running out of memory.
1. Open Windows Explorer and check out the available storage.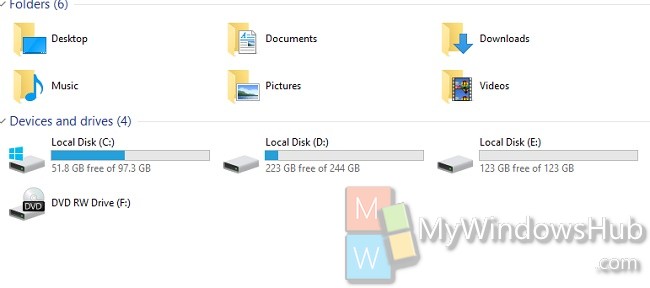 2. Now open the elevated Command Prompt by right clicking on the Start Button on Desktop and selecting Command prompt (Admin).
3. To query current system Compact State, type or copy and paste the following command
compact /compactos:query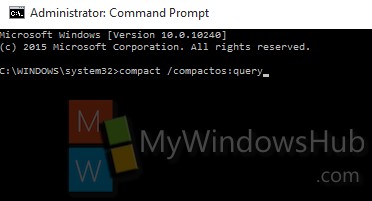 4. If you have never compressed your OS using Compact OS, then the result will tell you that your system is not in the compact state.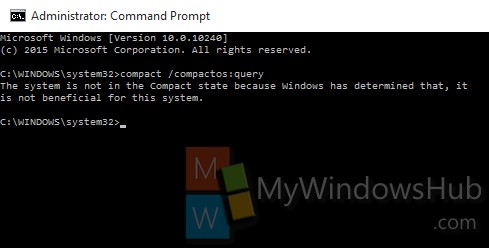 5. If you want to Compress Windows 10 OS Binaries (system files) using Compact OS, then type the following command and hit Enter.
compact /compactos:always
The compression will take quite some time, around 10 minutes.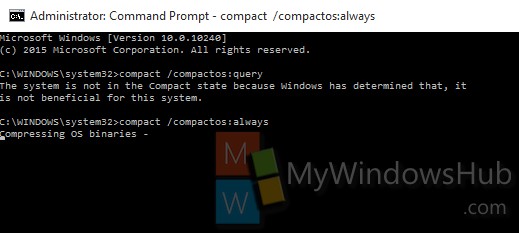 6. You will find the number of files compressed and the ration of compression.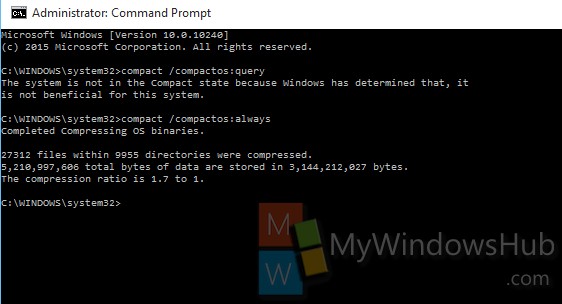 7. Now open the Windows Explorer and check the available disk space.
The available storage has increased by approximately 2 GB.

8. Now if you want to Uncompress Windows 10 OS Binaries (system files), type the following command and hit Enter.
compact /compactos:never
This will again take some time.